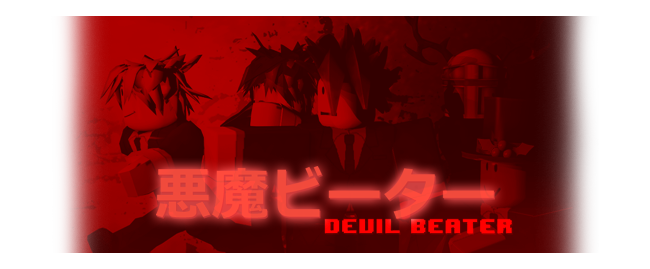 A quick overview on the subject at hand.
This is the "official" wikia for the game, 
Devil Beater. Devil Beater
is a free multiplayer online action arena game on the game-hosting site
Rōblox
, created by player
drager980
on May 2nd, 2015. Play with over
50 playable characters
, each with their own special abilities and specific advantages and disadvantages whilst in the battlefield. Team up with your friends or go at it alone in
60 acts and counting
; while you're at it, join the
official group
for news and updates on the game.
The Devil Beater wiki is the ultimate resource for the popular Roblox game, featuring all you need to know about characters, acts, and more. Please feel free to contribute to its 265 pages and join its community of 19,951,286 dedicated users, 3 of whom are active.
Check out other wikias you can visit!
Some things to keep in mind.
Do not insult or harass other users.
Do not post original characters on the official wiki. Use the fanon wikia instead.
Changes to a page that do not positively contribute to it, such as vandalism, will be reverted.
Do not create pages that are not relevant to the game.
Advertising and spam are prohibited.
If you wish to make a significant change to a page, discuss it in the comments section or the talk page.
Keep all articles objective.
Experience it for yourself.
Requires the Roblox Player Launcher to play. Download it from the prompt that appears when clicking the play button on the game page.
What tournament prize do you guys want the most?
See people's posts about stuff and anything. (As long as it isn't stupid and cringy)